Los Angeles Kids Travel

L.A. located on the west coast of the U.S.A. is one of the most visited West Coast destinations.
Los Angeles Family Travel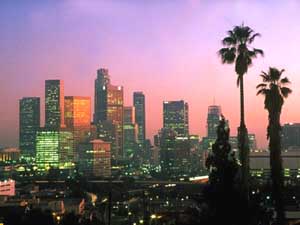 Located on the West Coast of the U.S.A., Los Angeles is home to movie stars, actors, television stars and an expansive urban metropolis.
L.A. offers the beach towns of Santa Monica and Malibu as well as Orange County beaches such as Newport Beach to the south. The city of Los Angeles is a cluster of high rises that make up the urban center, but L.A. is really a sprawling expanse that is made up of communities all across the "Southland".
The San Fernando Valley is on the other side of the mountain from Beverly Hills and Hollywood. Bedroom communities such as Brentwood and Pacific Palisades dot the landscape. To the south of Los Angeles International Airport is famous Venice Beach, Long Beach, San Pedro Harbor and the Palos Verdes Peninsula.
You can take a day trip over to Catalina Island where you can watch sea lions, rent a golf cart to cruise around the island or swim at the beach. You can also see some seals and have a nice meal in Marina del Rey.
For kids, Disneyland and the Disneyland Resort are not to be missed along with Knott's Berry Farm and even Legoland which is about 2 hours south of L.A. by car. If you venture further south, San Diego is a great place to explore including the Roar and Snore overnight adventure at the San Diego Wild Animal Park.