Chicago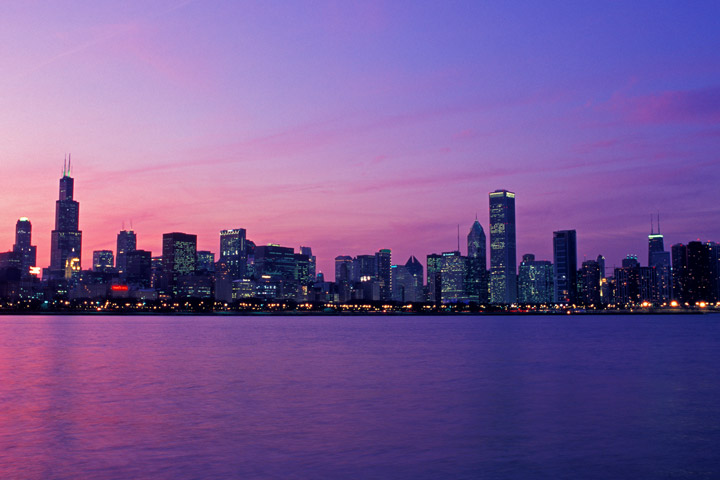 Travelling to Chicago Illinois
Life in the big city of Chicago is always bustling. You can visit the world famous Aquarium, take a power boat ride or walk or bike along the lakefront. See Chicago from above with a birds eye view from the tallest building in North America, the Sears Tower.
During your visit, you just have to try a Chicago Deep Dish pizza.

Millennium Park, a 24.5-acre urban oasis located on Michigan Avenue between Randolph and Monroe streets, features "Cloud Gate," one of the world's largest outdoor sculptures, as well as a music pavilion for summer concerts and the Crown Fountain, where kids (if parents approve) can happily splash.
The John G. Shedd Aquarium and Oceanarium, one of the world's largest indoor aquariums, presents a diversity of underwater habitats and creatures. Wild Reef's floor-to-ceiling windows put you face-to-face with dozens of sharks, and the Amazon River exhibit has piranhas, sloths, and caiman. Beluga whales, dolphins, sea otters, and harbor seals star at the Oceanarium.
The Field Museum and Underground Adventure, kids get a bug's-eye perspective as they travel through an ecosystem of roots and dirt; at Inside Ancient Egypt, learn about tombs and decipher hieroglyphics. More Egyptian treasures are on show at "Tutankhamun and the Golden Age of the Pharaohs," May 26, 2006, through January 1, 2007. See 23 mummies, and walk through a re-created tomb complex and a marketplace with interactive exhibits.
The famous super-high skyscraper Chicago Skydeck allows for a sweeping 360-degree view across the whole city and four states. The Sears Tower has since been renamed the Willis Tower but is still North America's highest building. Going up on a clear day and see for miles, a definite stop when touring Chicago.
The John Hancock Observatory is up 1,000 feet with stunning views across four states, a multimedia kids Sky Tour. This is the only open-air Skywalk in Chicago. Very fast elevators and a sumptuous café!
At the Museum of Science and Industry there are many kids activities including areas to actually walk through exhibits and experiece them firsthand like the explore the "History, Culture and Future of Video Games" exhibit, or you can tour a real U-505 German submarine.
At the Adler Planetarium and Astronomy Museum you can explore the stars including telescope viewing and other fun kids activities.

At the Chicago Children's Museum at the Navy Pier, you can invent your own flying machine and send it soaring two stories high, reassemble a 100-million-year-old dinosaur and more.
Stop by the Navy Pier and ride the Ferris wheel on the banks of Lake Michigan.
Visit the Brookfield Zoo and go on tours like you can at Sea World where you visit the animals behind the scenes. Baseball fans will want to visit Wrigley Field as featured in the Blues Brothers movie :>)