Ayres Rock

Ayres Rock (known locally as Uluru)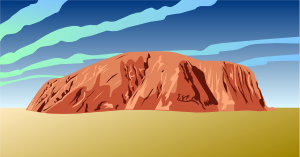 From the kangaroos to the massive rolling sand dunes, Western Australia and the Outback takes us back in time.
Ayres rock is actually located in central Australia, right in the geographical center of the continent and is part of the Northern Territory. The closest larger town is Alice Springs , still about 300 miles away and about a 4 1/2 hour drive to Ayres rock.
You can visit the Ayres Rock resort and experience the entire park.
The Olgas and Kings Canyon are other nearby popular destinations.
Watch out because it gets really hot in the Australian desert in their summer which is December through March.

You can take the 1.6km path to the top and get a birdseye view of the Australian desert. Aboriginal guides are also on hand for walking tours. The colours and scenery are awesome.
Ayres Rock is made of arkose sandstone and is:
2830 feet above sea level
1141 feet high
2.2 miles long
1.2 miles wide
5.8 miles around the base and covers 1.29 square miles
Further to the South West is Perth, gateway to Western Australia.